Contact Info
UK: +44 33 3303 1069

Butt Implant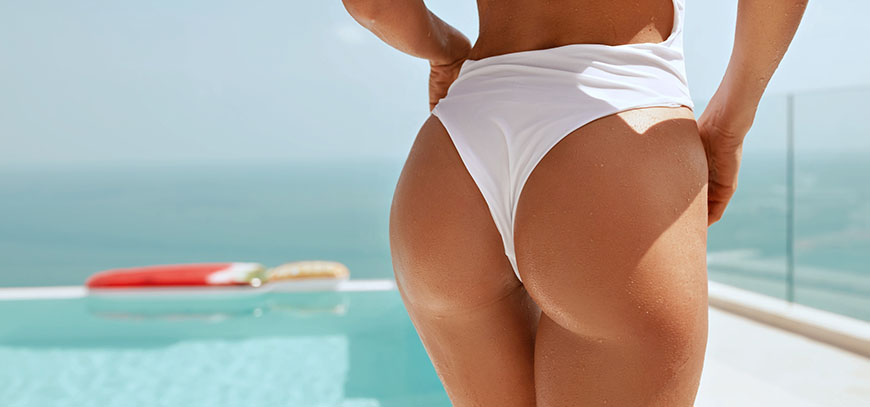 Both men and women frequently look to re-shape and enlarge their gluteal regions, commonly known as the butt or buttocks. Butt augmentation can be achieved with fat transferred from other areas of the body or, for a permanent solution, this shaping and enlarging can be done with implants.
People from everywhere aroud the world and starting from bodybuilders to runway models look for plastic surgery and gluteal implants to achieve a natural-looking buttock that balances well with their other proportions.
Some men and women are born with a body type that does not develop a proportional, rounded butt, while others have, due to aging, lost the mass and shape connected with the area.
Offering the only permanent solution for aesthetic gluteal augmentation, buttock implants can be placed either within the gluteus maximal muscle or on top of it. The advantages and disadvantages of each will be discussed with you during your consultation with us. Buttock implants come in a variety of sizes and are either round or oval in shape.
Pros and Cons of Butt Implants
Pros
The volume you obtain as a result of the surgery is permanent and safe.
There is no worry about a break or rupture of the implant because it is made of a durable silicone gel.
It is the best option if you don't have enough fat to get a Brazilian Butt Lift (BBL).
Butt implants can give you a uniform shape, with no risk of disproportion.
Cons
The time of recovery is a minimum of two weeks.
Butt implants cannot look natural, especially if the size and the shape are not the right decision for the patient, or if the implant is not placed correctly.
There exist some risks after making the surgery, such as infection, bleeding, pain, separation of the incisions, etc.
In some cases a patient may need another extra procedure due to an excess of sagginess.
The Procedure
To begin with the procedure, the surgeon applies general anesthesia so that you won't feel any pain during the surgery. Once the anesthesia has made an effect, the doctor makes an incision in your butt crack, and then insert the silicones on both sides.
For most surgeons, the best technique is to place the sillicones inside the muscles and not over them, that's because you don't lose the natural view of your butts, and obtain a proportional result. In addition to this, people may suffer some complications if it is placed on the top.
When the surgeon finishes with the implants, he then sutures the tissue layers and the incision. The doctor may also add a tube to drain the accumulation of fluid during the time of healing. Furthermore, the doctor could put a compression garment just to diminish swelling, waiting time of recovery.
Just like for breast augmentation with implants, everybody considering gluteal augmentation with implants wants to know "what is the best butt implant size for me?" Also similar to breast implants, butt implant sizes are measured in cubic centimeters or cc's. The standard sized butt implants range from 200cc to 400cc per side. While this may seem small when compared to the average amount of fat injected per side during a Brazilian Butt Lift (i.e. 400cc to 600cc per side), because of its solid silicone shape, a butt implant provides more gluteal projection (i.e. increase in an anterior to posterior, or front to back dimension) than the same amount of injected fat.
During your online consultation, we will have a detailed conversation and perform a careful examination of your body. With input from you as the patient, we will be able to recommend the best butt implant size that will provide the safest, longest lasting, and most attractive results.
The best candidate for Butt Implants is a very thin patient with virtually no excess fatty deposits anywhere on the body and minimal gluteal sagging who wishes to increase the projection and volume of the buttocks. Patients with even minimal amounts of excess fat may be better served with a Brazilian butt lift that uses a combination of liposuction and fat transfer to the buttocks to increase the size, improve the shape, and reduce sagging of the buttocks. For appropriate candidates, a Brazilian butt lift can eliminate the need for and risks associated with the use of prosthetic implants. Additionally, unlike gluteal augmentation with implants, the Brazilian butt lift allows for three-dimensional gluteal sculpting and augmentation whereas gluteal augmentation with butt implants only increases gluteal volume in a front to back direction (i.e. anterior to posterior projection).
To ensure each patient receives the surgery that will give the best and safest gluteal augmentation results possible, we perform a detailed online consultation. This information provided by you, your desires, and experience with gluteal augmentation allows us to recommend the ideal surgery to each patient whether it be gluteal augmentation with butt implants, a Brazilian butt lift, or a combination of butt implants with liposuction and fat transfer to the buttocks.
Our cosmetic gluteal augmentation with butt implant surgeries take place in an accredited, private hospital. Since the patient must lie prone and because of the length of surgery, all Butt Implant surgeries take place under general anesthesia with the patient completely asleep. Gluteal augmentation with butt implant surgery will generally take 2 hours to complete, depending on the size of the patient and complexity.
The patients may have drains placed in the implant pocket postoperatively to speed recovery and decrease the risk of fluid collections. These drains are generally removed in one to five days after surgery and are removed in the clinic during a follow-up appointment. A postoperative compression garment may be worn for a minimum of six weeks to aid in healing and shaping of the body depending on any additional surgeries were performed or not. Postoperative compression stockings must be worn for at least two weeks following a Butt Implant surgery to decrease the risk of blood clots and promote circulation.
Following the placement of butt implants, most of our patients are able to return to work within 3-5 days, drive when they are no longer taking narcotic pain medications, and return to full exercise by six weeks. Gluteal augmentation with implant patients should also avoid prolonged sitting for the first two to four weeks following surgery and should try to stand or lie on their side or stomach if and when possible.